Toronto Smile Makeover - Full Mouth Restorations
Porcelain Veneers
Downtown Toronto | Liberty Village Dentistry
Almost instantly improve the look of your smile makeover, using porcelain veneers. Veneers can potentially ameliorate any smile in one to two dental appointments. Veneers are very thin shells, made of porcelain to resemble your teeth's enamel. They are custom made by experienced dental ceramists and are then permanently affixed / bonded to the visible exterior of teeth, as required. Veneers are as resilient as your organic teeth, longer lasting than dental bonding, and they can repel future stains and chips from occurring.
Dental Bonding
Downtown Toronto | Liberty Village Dentistry
Dental bonding procedures entail a tooth-colored resin to be implemented and cured using a specific spectrum of light. The light hardens and bonds the resin to the tooth in order to strengthen or restore a tooth. Dental bonding is generally utilized as a restorative measure for chipped / cracked teeth, stained teeth or misaligned teeth. These resins can prove to be a great alternative to dental veneers.
Teeth Whitening
Downtown Toronto | Liberty Village Dentistry
Having a beautiful smile is much easier than most people tend to expect. A large number of people have accumulate stains on their teeth from factors such as aging,chemical damage, or dyes. Today's most cutting edge teeth whitening technologies are available at our dental office and our dental practitioners would be more than happy to revitalize the lustre of your smile!
Dental Crowns
Downtown Toronto | Liberty Village Dentistry
Crowns are dental restoration procedures which, when affixed into place with cement, completely envelop the visible section of a tooth at and above people's gum line. Crowns are a very fit solution for many major dental complications caused by anything from accidental injuries, oral diseases or gradual wear.  
Dental Implants
Downtown Toronto | Liberty Village Dentistry
Dental implants can change the way you live! You can regain the confidence and ability to eat, speak, and smile without restrictions.  Dental implants are fabricated in order to install solid groundwork for artificial teeth which match your natural teeth's shade and physical appearance.
Dental Bridges
Downtown Toronto | Liberty Village Dentistry
A dental bridge, is an appliance that dentists can utilize in order to restore lost teeth, by attaching artificial teeth to healthy neighbouring, organic teeth, or abutment teeth.  Bridges can be either permanently affixed or be removable. This restorative procedure can complete your smile as well as your ability to chew and speak without difficulty. Bridges also prevent your remaining teeth from shifting from their location.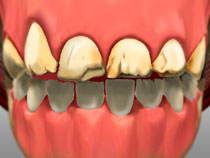 Last Updated On
2020-02-17