Porcelain Inlays & Onlays in Liberty Village, Toronto
Porcelain inlays and onlays are restorative fillings used to treat partially damaged or decayed teeth. A decayed tooth can cause tremendous pain, which creates difficulty for you in performing your day-to-day routine. Portrait Dental in Toronto, Ontario, recommends porcelain fillings to treat a decayed tooth affected by a cavity.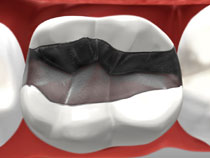 The flexibility of the material makes the fillings able to be adjusted according of the size, shape and colour of your teeth. Unlike dental crowns and dental bridges, porcelain fillings encase just a portion of a decayed tooth. The primary purpose of fillings is to protect the tooth from further decay and to restore the affected tooth. Composite bonded fillings – substitute to amalgam and metal fillings - adapt the natural tooth shade that gives an organic look to your mouth and enhances your smile.
Contact us now to book an appointment with us today!