Amalgam Free Dentistry in Downtown Toronto
Because dentistry has progressed so quickly, we can now treat decayed and fractured teeth without metal fillings. At Portrait Dental we are proud to offer amalgam-free dentistry which uses dental procedures that are 100% free of amalgam and mercury materials. Amalgam and mercury are effective at restoring decayed teeth - especially teeth under heavy chewing loads - however, aren't very natural looking. In addition, some patients may not like the idea of having their teeth restored with metal.

To address these concerns, our amalgam-free dental solutions allow us to restore problematic teeth in a quick and natural looking way. The amalgam-free dental services that we offer bonded fillings, dental crowns, porcelain veneers, dental bridges, non surgical gum therapy, root canal therapy, and implant restoration.

Our skilled dentist will examine your teeth, gums, and bite to determine the appropriate treatments for your smile. Once we have inspected your mouth and gone over your needs and goals, we can craft a personalized treatment plan to boost your dental health.

Contact Us at Portrait Dental in Toronto to learn more about amalgam-free dentistry.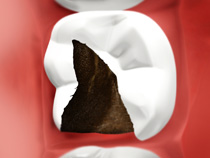 Last Updated On
2020-01-18